Happy Spooktacular September! I'm Mique from
Thirty Handmade Days
and
the Queen Bee Market
.
I'm so excited to be hanging out with some of my favorite girls today. My kids and I have been having fun in the kitchen, getting ready for Halloween and came up with these Caramel and White Chocolate Apple Eyes.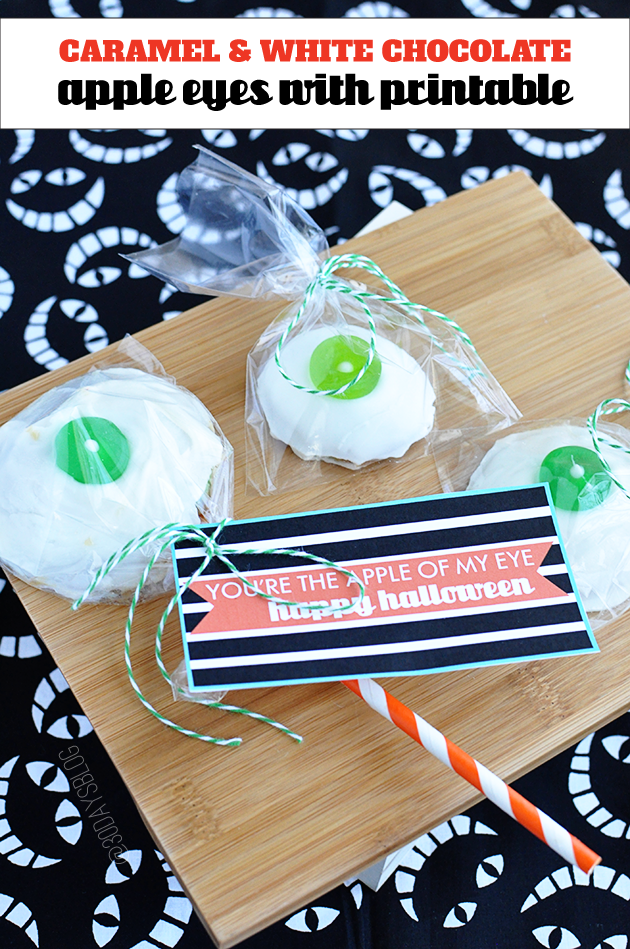 I hope you'll have some fun in the kitchen too. Make some silly looking eyeballs and attach a cute printable to pass out at a party, for classroom parties or to friends. Get it? You're the APPLE of my EYE... I'm such a sucker for a good pun. I hope you are too!
Here's how you make these tasty treats-
Caramel & White Chocolate Apples:
1 package of caramels
3-5 Granny Smith apples
1 package white chocolate chips/melts/bark
1 package Lifesavers Gummies
Lollipop sticks (optional)
- Spray wax paper with cooking spray and place on a baking sheet or plate.
- Cut apples in slices. For the best single eyes (without a stick), use the first slices on either side of the apple. Josh called them the "cheeks" of the apple. :)
- If you are making eyes on a stick, at this point skewer the apples with a lollipop stick. Set aside.
- Melt the caramels according to directions on the package (microwave or stove). Dip apples in caramel and place on wax paper.
- Put in fridge to harden for one hour. Caramel will be sticky but the cooking spray will help release it from the paper.
- Melt white chocolate according to directions (microwave or stove).
- Dip caramel apples into the white chocolate, making sure to cover each piece.
- Set back on wax paper. Add a Lifesaver Gummy to each caramel apple, making the eye.
- Optional: using red piping pen, draw squiggly lines to make it a scarier eyeball.
- Put back in the refrigerator for 1/2 hour to harden.
- Place eyeballs in treat bag. Attach printable with ribbon or baker's twine.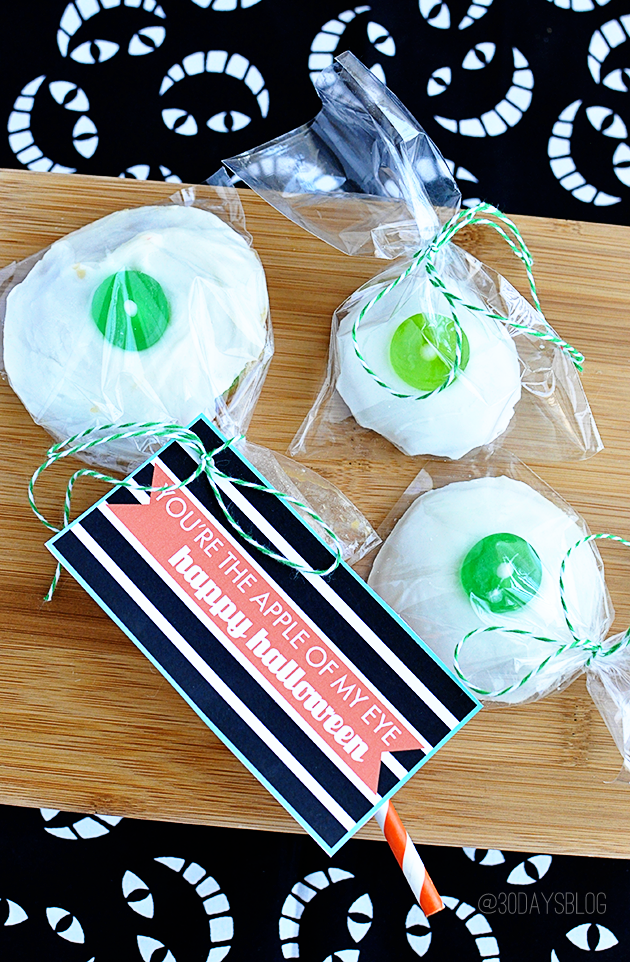 Download an
Apple of My Eye printable
.
For personal use only. Thanks!
AND visit me at the biggest
Queen Bee Market
ever on Fri, November 1-Saturday Nov 2nd in Oceanside, California.
I'm trying to convince the eighteen25 girls to come out for a blogger meet up! Wouldn't that be fun?
______________________________
this post is sponsored by: